Last term the Year 6 students participated in a Leadership Day which included a workshop on reconciliation.  Reconciliation means many different things to different people. In Australia, reconciliation usually means working to ensure everyone understands and values our culture and that we can learn, know and speak in many different ways. 
A large part of learning about and working towards reconciliation is learning about and respecting Australia's First Peoples – Aboriginal and Torres Strait Islander peoples. 
Throughout the workshop the students worked together to reflect on what Reconciliation means to them personally  and to translate their ideas into an icon.  
After many round-the-table discussions, the students combined their ideas and came up with an icon which they  believe represents what Reconciliation means for the school community.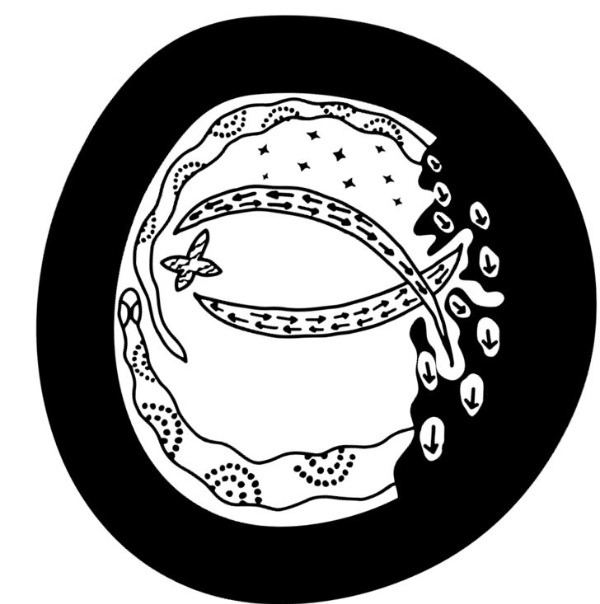 The icon includes:
Emu track– It is shaped like an arrow and represents the distinctive three toed footprint of an emu. The tracks show that we are all on a journey towards reconciliation, the black colour represents the land we walk on. 
Stars– Represent the Algnith people and the elders watching over us at all times. The stars guide us on our journey and remind us of our beautiful night skies. 
Rainbow Snake– He is a guardian who protects and looks after us. He created the land and water and is forever moving, surrounding us with love. 
St Joseph's school icon. It symbolises the Mission and Embley rivers crossing each other to make a fish. The cross reminds us that we are making our faith journey and bringing it to life in our daily actions. 
Dots– The dots inside the snake represent the art and traditions of the First Nations people and the arrows inside the fish icon represent that we are all on a journey, going in different directions and crossing paths. 
Thank you Year 6 for the thought you put into this design and the way you reflected on the importance of Reconciliation for our community.